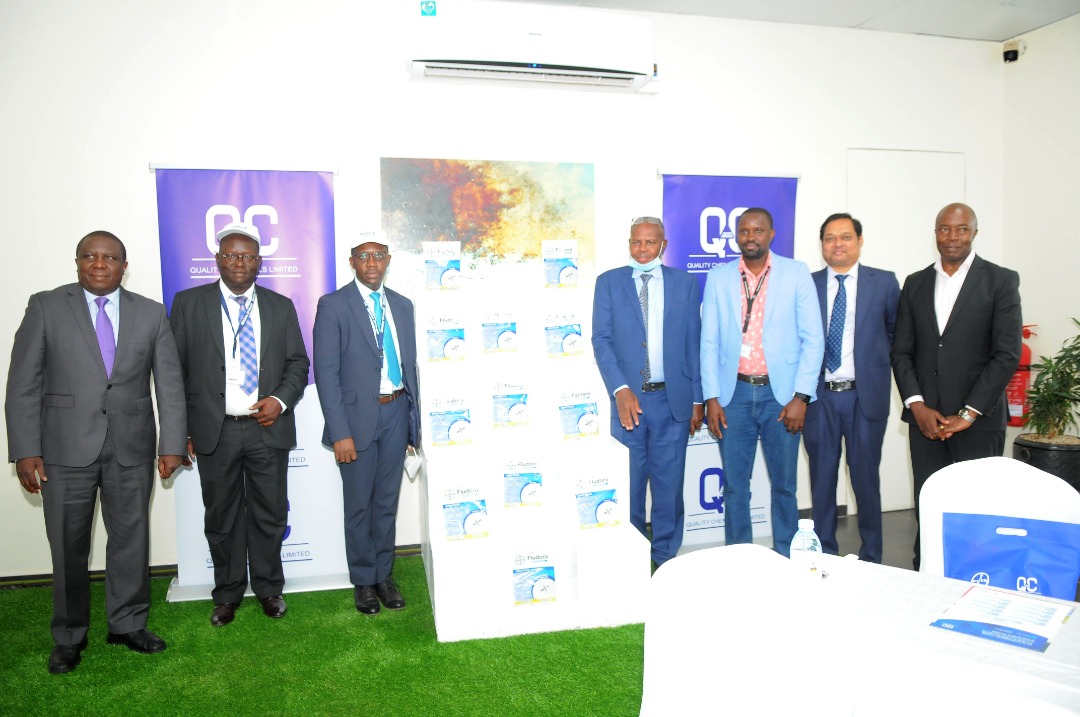 Bayer Environmental Science partners with Quality Chemicals Limited in the fight against malaria
Bayer South East Africa, through its Environmental Science subdivision, has partnered with Quality Chemicals Limited to distribute Fludora Fusion, a highly effective indoor residual spray pesticide for vector control of malaria in Uganda.
The launch of Fludora Fusion, hosted at Protea Skyz Hotel Naguru is the latest of (many) malaria interventions orchestrated by Quality Chenicals Limited in Uganda. Speaking at the press launch, Ajay Mahadik, Managing Director of Quality Chemicals, said the introduction of Fludora Fusion to the Ugandan market is timely.
"The product matches current customer needs as it provides a premium solution for malaria vector control. Our partnership with Bayer South East Africa secures and demonstrates our commitment to delivering cohesive malaria control solutions in Uganda. We also realized the need to offer ongoing technical training support to the professional pest control industry on indoor residual spray application," Mahadik explained in reference to QCL's fight against malaria. .
Director of Public Health at the Ministry of Health, Dr Daniel Kyabanyize, has praised Quality Chemicals Limited for leading the fight against malaria. He also called on the public to join the Ministry of Health in the fight against malaria.
"Quality Chemicals Limited has been at the forefront of the fight against malaria. When we have companies like QCL and Bayer South East Africa that can partner with government to provide the tools, services and other components needed for better health, the public must also join the fight. We can only enjoy the results if it is a concerted effort. The government is only implementers, coordinators and regulators in the fight against the malaria epidemic," said Dr. Daniel Kyabayinze, on behalf of the Permanent Secretary of the Ministry of Health, Diana Atwiine.
Mr. George Baguma, Director of Quality Chemicals Limited and renowned champion in the fight against malaria, said the product is now available for private consumption.
"We are committed to pursuing innovation and invention to strengthen the fight against malaria in Uganda. We will continue to identify, verify and therefore bring in new trusted partners to further materialize our efforts in the fight. We have executed a series of indoor residue spraying (IRS) product dissemination with the Ministry of Health in more than 20 districts.
Wednesday's launch is intended to let private companies know that Fludora Fusion's product is available for distribution. Fludora® Fusion WP SB is available in a 100g sachet, which when applying must be mixed with 10L (in a sprayer without a constant flow valve) or 7.5L (in a sprayer with a constant flow valve) d 'clean water and applied to a wall area of ​​250 m2', George Baguma, Director of Quality Chemicals Limited.
Speaking at the launch, Dr Jimmy Opigo, Deputy Commissioner of the Health-Malaria Service at the Ministry of Health, reiterated that there is a need for the public to get involved in the fight. He recommended the tactic of communal malaria control planning citing this; if individuals pool their resources and contract a trusted pharmaceutical entity of the caliber of Quality Chemicals Limited and Bayer International, the fight against malaria will be won.
"The market is saturated with counterfeit products. Often I am called by people complaining about bogus malaria vector control products. The public needs to slow down and question these products. Who are the people distributing these chemicals? What are chemicals? Are they approved by regulators? Who regulates? We have always worked with Quality Chemicals Limited to maintain quality, also because they go the extra mile to teach people how to apply. The public should know the difference between comprehensive pest control and malaria control. How do we work with schools to ensure that all schools are protected? Communities should organize themselves and contact Quality Chemicals Limited. A "box" of an average household malaria spray costs 50,000 but only lasts a week. And yet, a solution like Fludora Fusion which is more effective lasts longer than 8 months to a year," said Dr Moses Opigo of the Ministry of Health.
Daniel Mburu Kangethe, Bayer Environmental Science's technical sales representative for sub-Saharan Africa, said the launch of Fludora Fusion in Uganda is part of an exciting company plan to protect 103 million people from malaria and neglected tropical diseases by 2025.
"Fludora Fusion is the first indoor residual spray (IRS) product for malaria vector control with two independent active ingredients that have two different modes of action. The application of Fludora Fusion WP SB therefore provides improved efficacy against sensitive and resistant mosquitoes. It also stimulates longer robust and consistent residual periods on applied surfaces than application of either active ingredient," Kangethe said.
"Africa accounts for 90% of deaths worldwide. Malaria is one of the leading causes of death in Africa. With mosquitoes becoming resistant to active ingredients at one end and to factors such as environmental exposure, there was a need to provide holistic control. This was the basis for the formulation of Fludora Fusion. Fludora Fusion has been tested extensively in many parts of sub-Saharan Africa, including here in Uganda, and has been shown to be effective against susceptible and resistant mosquito species and is well suited for malaria vector control. It is also important to note that Fludora Fusion WP SB is easily applied using WHO approved sprayers to many types of wall surfaces (earth walls, plaster walls and plaster and painted walls) providing control longer residual, explained Kangethe.