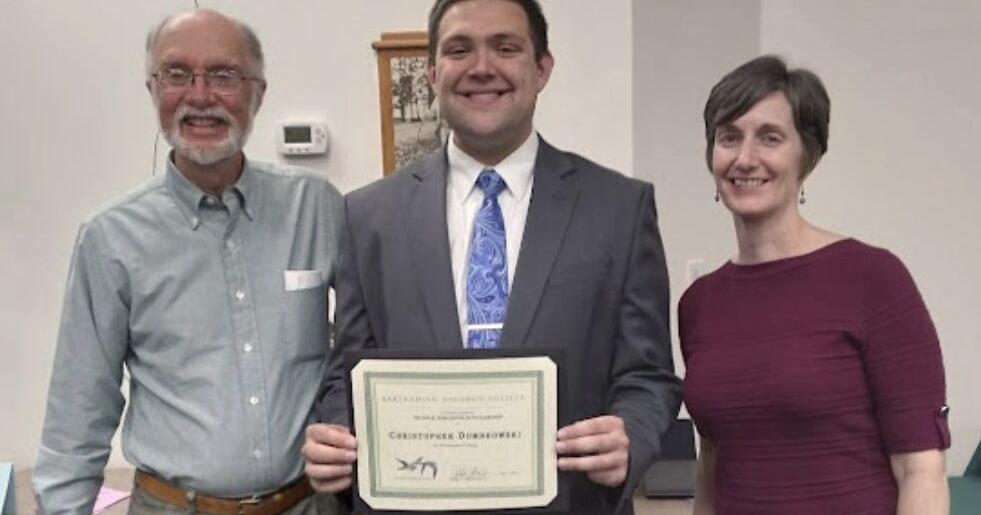 environmental science students honored by the Audubon Society | Our Campus
NEW WILMINGTON, Pa.– Christopher Dombrowskian environmental science major at Westminster College, received the Helen R. Ferguson Fellowship for Excellence in Environmental Science at the Bartramian Audubon Society's annual awards ceremony on Monday, May 9 at Jennings Environmental Education Center in Slippery Rock, Pennsylvania.
During the awards ceremony, last year's Ferguson Fellowship winner, Sammantha Parsons, who graduated in December 2021, was also awarded. Due to the pandemic, the Bartramian Audubon Society did not hold its annual awards ceremony last year.
The scholarship is awarded annually to an environmental science major who has demonstrated excellence in the fields of environmental science and education.
"Dombrowski has achieved academic excellence in environmental science courses, in addition to being engaged in professional pursuits, with an internship last summer and this summer at McCutcheon Enterprise, Inc. Parsons also had an excellent academic profile and was active in campus environmental programming," said Dr. Helen Boylandirector of Westminster's Center for the Environment and professor of chemistry
Dombrowski is from Natrona Heights, Pennsylvania, where he attended Highlands Senior High School. He is the son of Mary Jo Milberger and Len Dombrowski. Parsons, Amanda Hatch's daughter, is from Pittsburgh and graduated from Northgate High School.
Above photo: Christopher Dombrowski, center, with Dr. Helen Boylan and Jeffrey Hall, president of the Bartramian Audubon Society. Bottom photo: Sammantha Parsons with her certificate from the Bartramian Audubon Society.