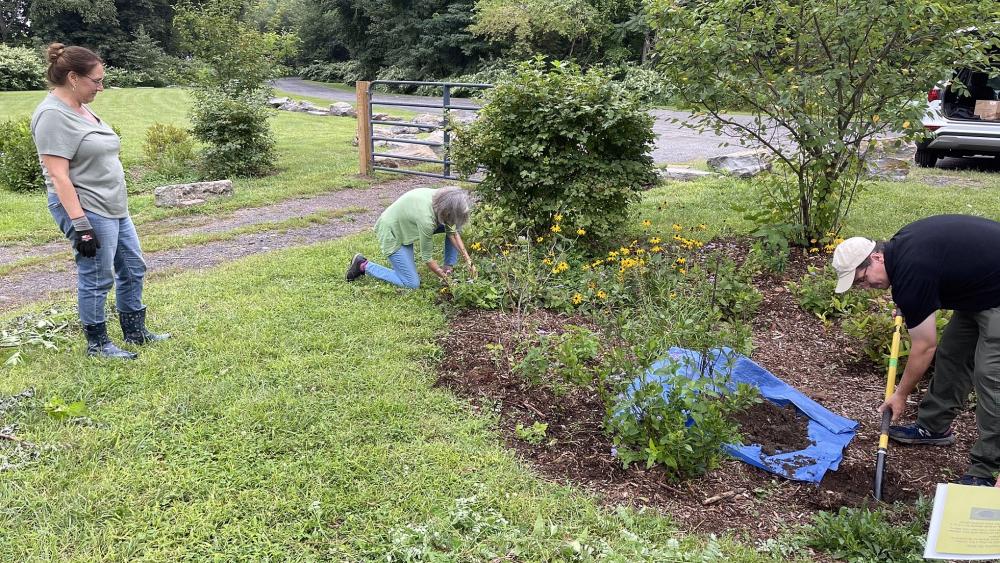 Penn State Extension revives community leadership around environmental issues
UNIVERSITY PARK, Pennsylvania — What stops people from leading and implementing local projects? How can we encourage volunteers to take action to fight climate change? These questions gripped a team of educators and master gardeners at Penn State Extension, who searched for answers.
They started by securing a Science-to-Practice grant from the College of Agricultural Sciences' Office of Research and Higher Education Extension and Education. These grants provide up to $10,000 per year to integrated research and extension teams to address urgent and complex challenges.
"Our premise was that people don't lead projects because they don't feel they have leadership skills and they don't know how to get money," said Linda Falcone, an educator in entrepreneurship and in economic and community development based in Wyoming County.
To test this theory, Suzanna Windon, an assistant professor of youth and adult leadership at the college, surveyed more than a thousand Master Gardener and Master Watershed Steward volunteers about their volunteering habits. The survey found that volunteers did indeed perceive weaknesses in educating others, writing grants, raising funds for projects, and communicating with local government. These results guided the training topics for a pilot leadership program.
Twenty-six volunteers from four counties signed up for the pilot project. Led by educators from Extension's Leadership and Community Vitality team, participants learned about leadership styles, team development, working with local leaders and managing conflict. What touched the participants the most was the grant writing course, where they learned how to measure impact and prepare a proposal.
Participants then worked in county-based teams to write grant proposals for local projects addressing environmental issues. They described their projects, explained the potential impacts of the project and prepared a budget. After evaluating and comparing the proposals, extension educators awarded funds from the Science-to-Practice grant to each team.
"That's what makes this program unique," Falcone said. "It took the risk out of writing a grant and not getting funded, because we've already done that for them. [with the Science-to-Practice grant]."
Competing for a share of the grant money created healthy competition among the participants. The extension team provided feedback on proposals and projects; they wanted participants to practice and improve their grant writing skills.
Fostering independence was a primary goal, Falcone explained. The skills acquired through the leadership program will enable participants to raise funds and initiate community projects themselves.
The county-based teams partnered with local leaders to carry out their projects. A crew cleared an overgrown garden in a state park and planted pollinator-friendly plants to rejuvenate the garden. Another team created a rain garden around a pavilion in a new waterfront municipal park. The rain garden captures overflow water that cascades down the hills – in an effort to reduce water pollution in the Susquehanna River.
A third team conducted soil health testing experiments and offered training and soil testing kits to community members. Introducing home gardeners to these techniques could increase the nutrient level of their soil and reduce the use of synthetic fertilizers.
The fourth team partnered with a community group of volunteers to educate residents about native plants and distribute plants to low-income homeowners.
Teaching others about environmental issues was crucial, according to Falcone.
"The goal of master gardeners is to educate others about why the environment is so important and how they can help," she said.
Additionally, county-based teams collected letters of recognition from the community and created impact statements to use for future education and publicity.
In a survey following the program, more than half of participants said they were more likely to lead a community project in the future, and 86% said it had improved their leadership skills.
Melissa Wright participated in the Soil Health Project in Wyoming County. She found the hands-on learning activities engaging and informative. As master gardener coordinator, Wright observed that master gardener volunteers go through basic training with lots of knowledge to share. This course translated this knowledge into community outreach.
Efforts are underway to expand the program statewide. A grant from the Pennsylvania Department of Environmental Protection will fund a pilot youth program in 2022. Aimed at youth ages 13-18, the program will take place in five locations and consist of two Master Watershed Steward projects and three Master Gardener projects.
"We need the next generation to not only know about environmental issues, but to act on them," Falcone said.
Falcone and the team hope to secure a second DEP scholarship for another adult program.
Lori Voll-Wallace, Susquehanna County-based Master Gardener Zone Coordinator, made an important point about upcoming trainings: "This training is open to anyone, not just Master Gardeners or Master Watershed Stewards," said she declared. "We hope to inspire people to volunteer and make a difference in their local communities."