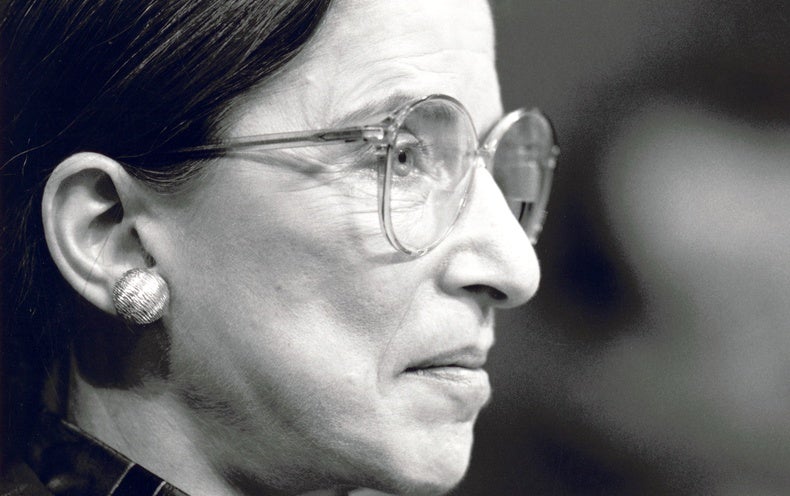 Ruth Bader Ginsburg leaves a nuanced legacy on environmental issues
Ruth Bader Ginsburg, champion of women's rights and one of the Supreme Court's most liberal justices, has died. She was 87 years old.
Ginsburg, who had been the oldest judge on the court, had suffered from several health problems in recent years, including a recent recurrence of liver cancer (green wire, July 17). She died "surrounded by her family at her home in Washington, DC, due to complications from metastatic pancreatic cancer," the Supreme Court said in a statement released today.
Former President Clinton appointed Ginsburg to the nation's highest court in 1993. She was the second woman to serve on the court.
His death leaves an opening in the Supreme Court, which President Trump could fill. Trump has already benched Justices Neil Gorsuch and Brett Kavanaugh, and a third choice would further entrench the court's conservative majority. The President recently released an updated list of future Supreme Court justices (green wireSeptember 10).
Such a change could affect how the court adjudicates outstanding challenges to the Trump administration's environmental agenda. Trump's efforts to reduce emissions from Obama-era vehicles, water permits and other standards could eventually reach the judges.
Best known for her advocacy of gender equality, Ginsburg was also seen as a reliable vote for environmental interests vying in the high court. In practice, its jurisprudence was much more complex.
In the historical case of climate American Electric Power Co. Inc. v. ConnecticutGinsburg led the court's unanimous opinion that private entities and states could not sue power companies for their contributions to climate change under federal common law.
The 2011 case followed the court's 5-4 decision – Ginsburg had a majority – in Massachusetts v. EPAwho said the federal government has the authority to regulate greenhouse gas emissions as "air pollutants" under the Clean Air Act.
"The law itself thus provides a means to seek limits on carbon dioxide emissions from national power plants — the same relief that plaintiffs seek by invoking federal common law," Ginsburg wrote in American Electric Power.
"We don't see room for a parallel track."
Similar issues have come into play in a recent series of lawsuits brought by cities, counties and a state trying to make big oil companies pay for the local impacts of climate change. The municipalities' attorneys argued that their nuisance claims could proceed in state court.
Ginsburg also joined the court's liberal wing in dissents in two landmark Clean Water Act cases. These minority opinions in Northern Cook County Solid Waste Agency v Army Corps of Engineers and Rapanos v. United States expressed support for a broader definition of waters under the jurisdiction of the Clean Water Act.
Prior to her Supreme Court nomination, Ginsburg served on the United States Court of Appeals for the District of Columbia Circuit after being nominated by former President Carter.
Ginsburg began his career in academia. She taught at Rutgers University and her alma mater Columbia Law School, where she transferred from Harvard Law School after her husband, Martin Ginsburg, took a job in New York.
Martin Ginsburg died in 2010. The couple met as undergraduates at Cornell University and had two children, James and Jane.
Reprinted from Climatewire with permission from E&E News. E&E provides daily coverage of top energy and environmental news at www.eenews.net.