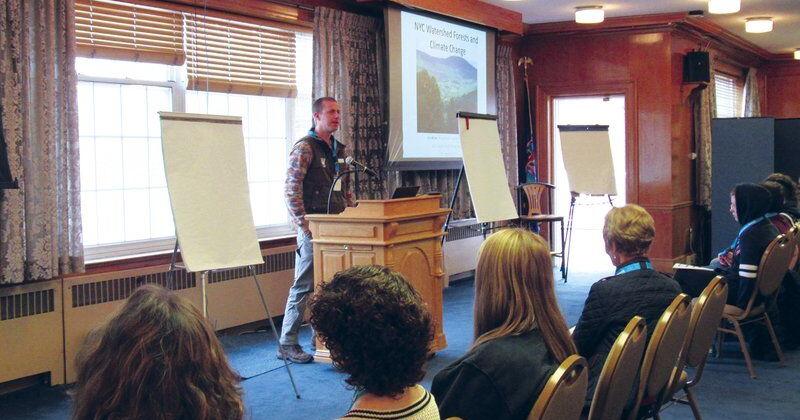 Students tackle environmental issues at climate summit | Local News
Students listened to guest speakers and learned how to develop a climate action plan at the 2022 Youth Climate Summit on Friday, April 1 at SUNY Oneonta.
About 50 students from Roscoe, Roxbury, South Kortright and Walton Central School districts attended the summit in person, while other students attended the summit virtually.
"It's pretty exciting that we can come back in person today," said Jeanne Darling, director of Cornell Cooperative Extension of Delaware County. "For many of these students, this is their first school outing in two years.
Darling said the first youth climate summit was held at Delaware Academy and Delhi's Central School District over the course of an afternoon and about 240 students attended. She said "the students wanted to spend more time together and a longer summit. The next two years we held a two-day summit at the Frost Valley YMCA." She said the past two years the summit has been held virtually.
Students listened to guest speakers, both virtually and in person, throughout the morning.
Emma Venarde, a student at Brown University, spoke about her participation in the United Nations Conference of the Parties 26 summit held in Glasgow, Scotland in November. She was able to be part of the Wild Center delegation. She said she was worried after attending the conference because several countries where climate change is a threat were unable to make it to the conference, but 500 people representing fossil fuel interests were able to attend.
"Evil voices were being heard," she said. She encouraged the students to continue their struggle on a small scale.
Kris Brown, Forestry Program Researcher and Evaluation Specialist with the Watershed Agriculture Council, described WAC's Forestry Program and how trees and forests protect water quality in the City of New York and in people's gardens.
Brown explained how the system of reservoirs and aqueducts east and west of the Hudson River provide drinking water to the people of New York. He said 79% of the Catskill-Delaware watershed is forested land, and 67% of that land is privately owned; the rest belongs to New York and the state.
Brown said the WAC works with landowners to help maintain their forests, encourages them to make money from their forests through managed timber harvesting, maple syrup or mushroom production. He described the Trees for Tributaries program and the iTreeMyTree website that allows people to identify trees growing in their backyards and gauge how much carbon dioxide each tree absorbs and turns into oxygen.
Cornell student Ella deBruijn and Cornell alumna Samantha Landsman provided insight into climate change and ways students can help. Landsman said British Petroleum created the carbon footprint that people can use to see how they can reduce their carbon output, but the company produces 374 million metric tonnes of carbon dioxide every year, while the average man produced two books. She encouraged students to shop at small businesses instead of Amazon, eat less meat, eat local fruits and vegetables, and vote once they're eligible.
Walton student Adara Allen asked how people on fixed incomes can support sustainable businesses when prices are higher. Landsman said people should choose the most sustainable business "when they can," but acknowledged Walmart is sometimes the only option.
"There is a misconception that sustainable businesses are more expensive," she said. "People can shop on Etsy instead of Amazon and support small businesses."
Walton student Aurora Siniscalchi asked how people can discern that a company is "greenwashing" – claiming to protect the environment when it is not actually doing so. Both Landsman and deBruijn said it takes a lot of research.
Elodie Linck, Jeanne Hutchins Youth Climate Coordinator at the Wild Center showed the students how to create a climate action plan. Over their lunch, the students talked about what they would like to see implemented in their school or community to help fight climate change.
Caroline Gorence, a 10th grader at Walton, said she would like to see the cafeteria use more durable items, such as metal utensils and get rid of straws, plastic and polystyrene. She would also like the school to start composting food waste. Faith Lambert, a junior at Walton, said she would like to see the school use more solar power. Aurora said she would like to educate her classmates and the public about how "climate change really is bad."
Students from South Kortright Central School helped introduce speakers and talked about one of the school's projects. Ailee McCracken said the school's environmental club asked the district to install solar panels on the school, but the administration refused. The club will instead install a solar-powered mobile phone charging station near the sports fields.
During their breakout session, the students said they wanted to install solar-powered streetlights in the school and were interested in composting food waste from the cafeteria.
The summit was sponsored by Cornell Cooperative Extension of Delaware County, Catskill Watershed Corporation, Delaware County Soil and Water Conservation District, SUNY Oneonta and The Wild Center.
Vicky Klukkert, editor, can be reached at [email protected] or 607-441-7221. Follow her @DS_VickyK on Twitter.