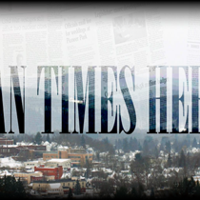 The bigger the farm, the bigger the environmental issues become | Archives
LYNDON ã As far back as he can remember, Joe Strzelec dreamed of being a farmer.
He is not from a family of farmers. Farming is just something he always felt was in his blood, even though it wasn't in his family tree.
He briefly changed his mind while attending Cornell University in the 1970s. He had no money and thought he would never have enough to start his own farm. Instead, he thought about becoming a veterinarian. But a Cornell professor assured him that if a farm was what he wanted, he could always borrow some money and make it happen.
The 28 years that have passed since he started farming in 1977 have proven that Joe Strzelec was dreaming well. According to the New York Dairy Producers Association, Mr. StrzelecÞs Mallards Dairy on Rawson Road is one of five dairy farms in New York with more than 2,000 dairy cows. And it's the largest dairy in Cattaraugus or Allegany counties.
His dairy grew during the years of agribusiness and Farm Aid. At a time when most independent farms auctioned off their herds and equipment, Mr. Strzelec was growing.
But as he turned his dream into reality, his success came with increasing challenge. Its more than 2,000 dairy cows not only produce liters of milk, but tons of manure. The average healthy dairy cow produces between 100 and 120 pounds of manure per day. It's about the same weight as a small woman. A farm of 2,000 cows produces between 200,000 and 240,000 pounds of manure every day.
In the beginning, when he had only 100 cows, Mr. Strzelec collected the manure and spread it on the fields as fertilizer. It won't work anymore. Today, waste treatment lagoons dug on his 850-acre farm contain the manure produced by his 2,000 cows.
ßThat's it. It's the nemesis," he said as he walked around the dairy to explain a new manure handling system at Mallards Dairy.
While it's a tricky problem, Strzelec said manure handling isn't a problem that mallards can't control.
"It's just a really big part of running the farm, but it's manageable," he said.
Mallards Dairy installed a waste handling system similar to systems used by small towns like Olean. The system breaks down the waste, turning it into fertilizer and treated water.
Dan Steward is a crop consultant with the Western New York Crop Management Association. The association helps farms develop nutrient management plans, which include manure handling. He said more and more new farms are building waste treatment systems.
"What Mallards are doing is really proactive," he said. ßIn the past, farms did more storage ã dig a pit and put the manure in it ã than treat.
The new waste treatment system is the second installed on the farm. A previous treatment system was not working properly. The waste did not decompose as expected and had to be pumped from the lagoons into tank trucks, which then sprayed it on the fields as fertilizer.
Mr. Strzelec said the partially cured manure produced a foul smell that he couldn't even stand.
"We were driving down the street in our trucks and people were running us over," Mr Strzelec said. "I don't really blame them. The smell was vicious.
The new manure handling system cost Mallards Dairy $650,000. Mr. Strzelec just spent an extra $50,000 to beef it up.
On April 18, a PVC pipe fitting coming out of a pumping station ruptured, releasing 40,000 gallons of treated water from the sewer system. Some of the water ended up in Rawson Creek. Mallards Dairy workers quickly built a series of dams along the creek and pumped water into nearby fields. The dams blocked sewage from flowing into Lake Cuba, which Rawson Creek reaches a few miles downstream from Mallards Dairy.
The state Department of Environmental Conservation tested the creek and found it to be free of contamination within days of the spill.
Mr. Strzelec had the PVC pipes replaced by steel. It is also constructing a berm around the pumping station and manure treatment lagoons. If any part of the system fails again, nothing will leave the farm.
"We're doing everything we know how to deal with it," he said. "We try to opt for safety. This is our problem and we intend to solve it.
This is a problem that is not unique to Mallards Dairy.
Joan Petzen, Cornell Cooperative Extension's manager for agriculture and natural resources, said every spring and summer her office gets calls from farmers and their neighbors asking about rules and regulations for handling the manure.
"If you have more than 175 to 200 dairy cows, you face this problem," she said. ßEvery farm really needs to have its own nutrient management plan.à
She said the problem had grown over the past 10 years as people migrated from cities and towns to more rural areas.
"Now we have a lot of neighbors around the country who don't understand agriculture or the sights, sounds and smells associated with it," Ms Petzen said.
Another factor is the growth of large farms that concentrate manure in one place.
Across the country, dairies are struggling to find innovative ways to manage cow manure. In 2004, California instituted strict regulations regarding how long farms can keep manure on their property.
According to an Associate Press article in June 2004, dairies east of Los Angeles and their approximately 300,000 cows produce a million tons of manure. The ammonia and other pollutants they generate mix with emissions from smokestacks and tailpipes to create some of the dirtiest air in the country.
California law once allowed farms to retain manure for up to six months. Now the state requires farms to remove manure by transporting it to a treatment site or processing it on their farms within three months. New York State does not have regulations regarding how long a farm can keep manure on site.
Some of the dairies are building waste treatment plants like the one at Mallards Dairy. Others line their manure lagoons to capture the methane created when the waste decomposes. Dairies use methane to power turbines which, in turn, provide electricity to farms.
California leads the nation in milk and cheese production with more than 1,900 commercial dairies. The state has about 2 million dairy cows.